Upgrade yours
ABT Power, Wheels, Aerodynamics and more
Step 2
abt chooses the perfect specialist in your area
Step 3
installation at our headquarter or at a car dealer in your area
Step 2
abt chooses the perfect specialist in your area
Step 3
installation at our headquarter or at a car dealer in your area
Big, wide, powerful. With the RS Q8, Audi developed its most impressive vehicle to date and positions it masterfully at the top of the RS family. The specification of the standard version is already impressive to customers for whom the driving experience is paramount: The 4.0-litre V8 TFSI engine delivers 591 hp and a maximum torque of 590 lb-ft. For even greater driving pleasure, our engineers have developed a performance upgrade of an additional 100 hp and 59 lb-ft. Thanks to our high-tech control unit ABT Engine Control, the RS Q8 now delivers 690 hp and 649 lb-ft.
| | Series | ABT Power S |
| --- | --- | --- |
| Power | 591 HP | 690 HP |
| Torque | 590 lb-ft | 649 lb-ft |
| 0-60 mph | 3,8 sec. | 3,5 sec. |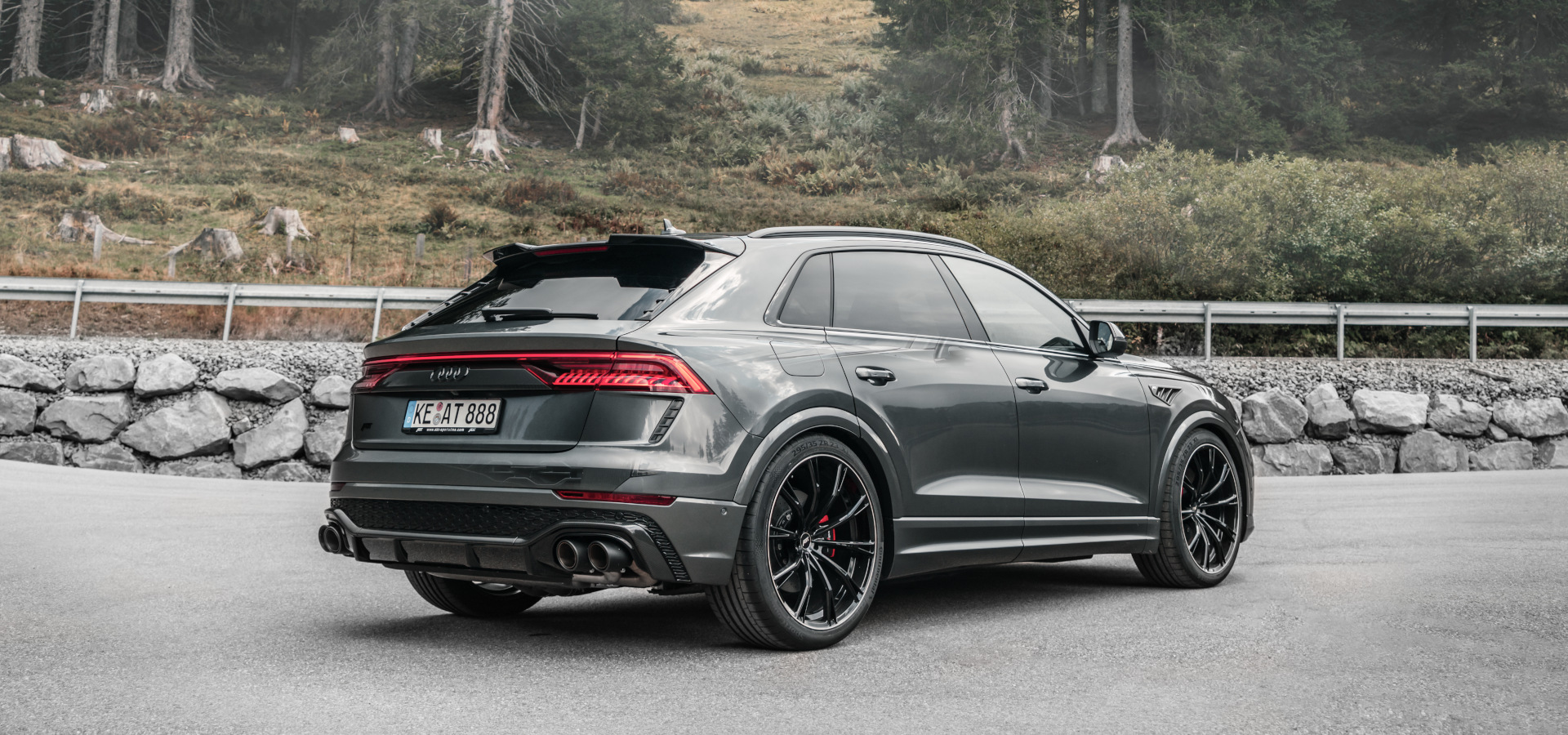 Thanks to the optional ABT exhaust system, the RS Q8 has a more charismatic voice. An electrically controlled exhaust flap on each side of the vehicle and four active pipes create a glorious resonance. Power delivery also benefits, thanks to the integrated interference pipe and reduced exhaust backpressure. It is also a feast for the eyes: The car features a quartet of 4 inch (102-mm) matt black end pipes. In addition, we also supply a polished exhaust housing with embossed ABT logo.
Furthermore, we offer a sporty finishing touch: Fender inserts made of carbon fiber, which visually emphasize the dynamic performance of the vehicle perfectly.
A special SUV deserves special wheels. And you can do no wrong with the high-performance GR wheel. The 23-inch ABT High Performance GR in Glossy Black looks breathtaking and, in addition, the wheel is super-light and yet extremely smooth-running. This is due to its modern manufacturing process – flowforming technology - which allows the rim bed volume to be reduced by up to 50 percent. This facilitates thinner wall thicknesses and thus a slim design with extreme stability.